Dwight Howard. Steve Nash. Metta World Peace. And Kobe Bryant.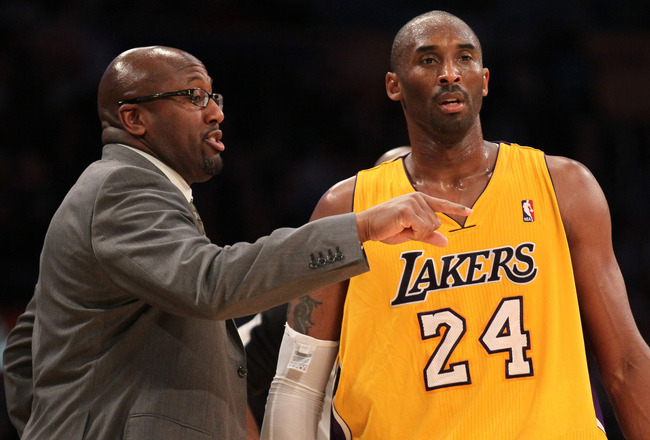 Coach Mike is either the next Coach Spo or the next Del Harris.
Those are some pretty big egos right there. Not so much Nash, as he pretty much keeps the same demeanor at all times but those other three guys . . . wow, talk about psycho-emotional roller coasters. That being said, is current Los Angeles Lakers head coach Mike Brown really fit to coach this team? I must admit that the most recent NBA Championship winning coach, Erik Spoelstra,
did
prove me wrong as I predicted that he wouldn't last as head coach dealing with the superstars that are the Miami Heat Big Three. But by comparison, this Lakers collection of headcases seems like a group that not even an acclaimed psychiatrist could fully breakdown. Unless, of course, he was a master. . . Zen Master possibly? Let the speculation of Phil Jackson's imminent return to professional basketball begin. First off, no one really knows if Phil wants to come back to basketball since he really doesn't have anything left to prove in his career. Furthermore, he's already done the Lakers thing twice. I would've suspected that if he were up to a new challenge that the recent New York Knicks opening would intrigue him since Jackson spent most of his NBA playing career as Knickerbocker and was part of the 1973 team, which was the last time a Finals championship banner was raised in the Mecca of basketball. But Jackson turned down the position and remained retired. But come to think of it, Phil's thing hasn't really been about accepting a 'challenge', it's really more about taking the best collection of talent on the planet and putting them over the top. When you look at it that way, then a third stint in L.A. for Jackson seems exactly what the universe would prescribe . . . dharma if you will. But as it stands, Brown is the coach of this team. The only things stopping Mike Brown from earning (coasting to) his first ring is possibly being out dueled again by Scott Brooks and the OKC Thunder gang, and his good ole pal LeBron James, who helped another low-profile, defensive-minded coach earn (coast to) a ring last year. And, the order of the universe of course.