Overrated.
Nerlens Noel, Center, Kentucky. & Victor Oladipo, Guard, Indiana.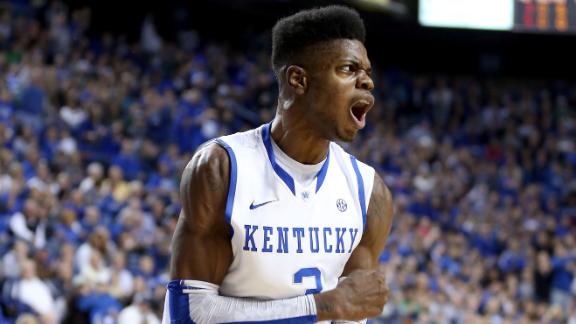 Noel can block shots but doesn't do much else at this point.
Both of these guys have the potential to be very good if they can ever learn to play offense. Noel has been slated to be the top pick of this draft for over a year now, but did very little to solidify that in his one year in Lexington, as he struggled to develop any kind of low post game. Oladipo has drawn the Tony Allen comparisons and rightfully so. But does that type of player warrant a top five pick as most pundits have him projected as?
Underrated.
Shane Larkin, Guard, Miami (FL).
The primary player involved in the "U" being talked about more in basketball than football last season is ready for prime time. Larkin is one of the most athletic players in this draft (44-inch vertical leap at 2013 NBA Draft Combine) and orchestrated the Miami offense mostly out of the pick-and-roll. Strikes defenders with a quick first step and can penetrate to the basket or burry the outside shot using a devastating step back. Low risk of the spotlight getting to his head as he's had to deal with it his whole life being the son of a guy whose name is in Cooperstown.
Myck Kabongo, Guard, Texas.
Quick, shifty, point guard that can get his own shot fairly easily in isolation Inconsistent outside shot but always a threat to drive. Has shown the ability to score in bunches in games, such as Feb. 28 when Texas hosted Oklahoma. Kabongo led the Longhorns to a 22-point comeback win while scoring a career-high 31 points with 28 of them coming in the second half and overtime.
We Could Have Something Here.
Len is a big man with coveted low post skills.
Alex Len, Center, Maryland.
Smooth offensively for a player that is still very raw. Long arms with a slight build but doesn't shy away from contact. Decent faceup game and can play with his back to the basket but needs to get better as a passer in that capacity. Could possibly be a Roy Hibbert-type pivot man in the future.
Michael Carter-Williams, Guard, Syracuse.
Big point guards haven't faired well in the NBA in recent years (see Shaun Livingston) but Carter-Williams is trying to end that trend in 2013. At 6-6 and with long arms, the Hamilton, MA native will be a pest on the defensive end for smaller point guards without question. If he can develop a consistent jumpshot and take better care of the basketball, we could be looking at Anfernee Hardaway 2.0.
Gotta Have 'Em.
Ben McLemore, Guard, Kansas.
Played inconsistent basketball in his only year at Lawrence but there's no denying the raw ability McLemore owns. He has top-of-the-square ups and the release on his jumpshot is very reminiscent of 2012 NBA Draft Lottery pick Bradley Beal's. Has the quickness and strength to guard three positions. Best case scenario: he's a slightly better version of Paul George.
Otto Porter, Jr., Forward, Georgetown.
Porter is clutch...and clutch is everything.
His stock took a big hit after the Hoyas lost to Florida Gulf Coast in the 1st round (2nd round?) of the NCAA Tournament, when many college basketball experts had him as a frontrunner for Naismith Player of the Year. Despite not being able to help his team pull out the W that day, Porter is still a player with the potential for NBA stardom. Learning offense in John Thompson's Princeton-style offense will help Porter transition easily to being a facilitator, but the kid can score if called upon, too. He scored a career high 33 points against Syracuse Feb. 23. Porter is also has a knack for coming through in the clutch. He led Georgetown to a double overtime win over UConn earlier this year while making a play on every key offensive and defensive possession down the stretch.