In 1997, Jordan's Bulls were seeking a 5th ring in 7 years.
The Chicago Bulls failed to score at least
18 points in three out of four quarters
in a series-ending 75-69 Game 5 loss to the Washington Wizards on Tuesday.
According to a stat on TNT research, it was the first time that happened to the Bulls in a playoff game since June 8, 1997.
No big deal, right?
Wrong.
Basketball in June means it's probably the NBA Finals. And since it was the year 1997, then that means Michael Jordan was there.
Had to look up the
boxscore
on this game to see exactly how this type of scoring ineptitude could occur with Mr. 6-for-6-in-the-Finals himself on the roster.
Turns out, that date represents Game 4 of the 1997 NBA Finals. The Bulls were facing the Utah Jazz at the Delta Center in Salt Lake City.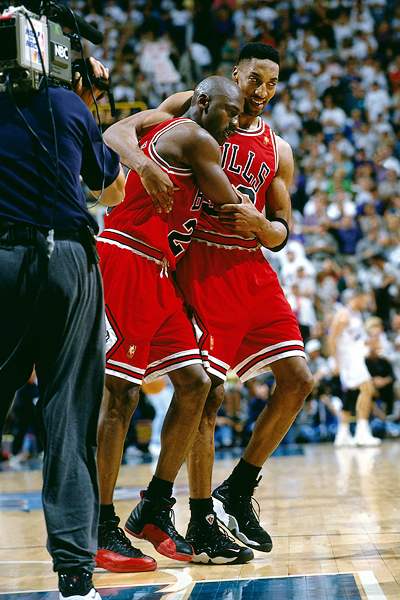 Jordan carried the Bulls with 38 points in Game 5.
Jordan, who finished the game with 22 points on 11 of 27 shooting, had a chance to tie the game with a 3-pointer with Chicago down 73-76 with less than 10 seconds to go in the 4th quarter.
The Jazz won Game 3 at home too, and would be looking for the home sweep in the 2-3-2 Finals format.


They must've been feeling really good about themselves at this point.
And probably even more so when reports began to surface just before Game 5 that Jordan was ailing from what would later be classified as the 'flu'.