Calm under pressure
No. 11 Marquette vs. No. 2 North Carolina
#5 Kendall Marshall - Guard
6-3 186 Freshman Dumfries, VA
6.2 ppg 6.1 apg
The Tar Heels were
point-guard-by-committee
for the first 21 games of the season until Marshall emerged. His first game playing significant minutes came Feb. 6 against
Florida State
in
Tallahasee
. Marshall dimed
16 assists
on the Seminoles; the all-time single game record for a
UNC
player in an ACC game. The freshman point possesses poise beyond his years and has been
unflappable
so far in the tournament. The Tar Heels will need Marshall to settle down the offense and not get into a shoot out with a
Marquette
team that likes to make you play in a hurry.
No. 12 Richmond vs. No. 1 Kansas
#21 Markieff Morris - Forward
6-10 245 Junior Philadelphia, PA
13.9 ppg 8.3 rpg
The more low-post oriented of the
Morris twins
. Coming off a 24-point 12-rebound performance against
Illinois
in the round of 32, Kansas must continue to feed its hot hand. The
Jayhawks
can kill the will of the upstart
Spiders
by pounding them inside where they don't really have much depth. Dominant inside play by Markieff and his brother Marcus will lead to double-teams in the post and kickouts to the perimeter that will give Kansas shooters
Brady Morningstar
and
Tyshawn Taylor
plenty of open looks.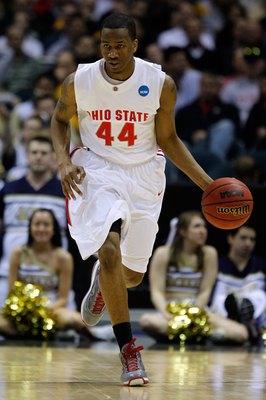 Buford can kill you from anywhere on the floor.
No. 4 Kentucky vs. No. 1 Ohio State
#44 William Buford - Guard
6-5 205 Junior Toledo, OH
14.6 ppg 4 rpg 3 apg
Buford is the
jack-of-all-trades
for the
Buckeyes
and the team's most athletic guard. He can hurt you on offense from either guard position. He creates a
matchup problem
with his size as he has the ability to rise and shoot over smaller defenders and is fast enough to penetrate past bigger ones. Good at drawing help defense and finding
David Light
y and
Jon Diebler
for open 3-pointers on the perimeter or dropping off passes to
Jared Sullinger
when driving the paint. You can't play off of him either as he his hitting at 44-percent clip from beyond the arc. Buford is also the team's best on ball defender and will likely be given the task of staying in front of
Kentucky
freshman guard
Brandon Knight
.
Singleton goes hard in the paint.
No. 11 Virginia Commonwealth vs. No. 10 Florida State
#31 Chris Singleton - Forward
6-9 225 Junior Canton, GA
13 ppg 6.7 rpg 2 spg 1.5 bpg, leads team in all categories
The
Seminoles
might not have snuck up on anyone by surprise if it wasn't for an injury to Singleton's foot that required him to have surgery after a Feb. 12 game against
Virginia
. Many assumed Singleton would be
out for the season
and that Florida State could not perform well enough without him to make the NCAA tournament since Singleton was playing like an
ACC Player of the Year candidate
before he went down with the injury. Despite going 3-3 without their best player, the 'Noles made the tournament, and Singleton returned for the team's opening round game victory against
Texas A&M
after missing just over a month. He hasn't returned to full form yet (0 points in 10 minutes against
Notre Dame
last round) but will be critical in tonight's game against VCU as the
Rams
will look to forwards
Jamie Skeen
(15.2 ppg, 7.3 rpg) and
Bradford Burgess
(23 points and eight rebounds in last round win vs.
Purdue
) to carry them to the
Elite Eight
.