Wade has seen better days in South Beach.
The regular season in the NBA
doesn't mean anything
. The schedule is for 82 games and we can't judge a team in April by what they did in November. Plus, good teams lose to the
Memphis Grizzlies
and the
Charlotte Bobcats
all the time; not because those teams are better or have better players, but because good teams can't get up to play those games on the second night of a back-to-back on a roadtrip. And when two good teams collide in the regular season, whoever wins doesn't matter either, 'cause like
Los Angeles Lakers coach Phil Jackson
said "Is is the playoffs yet?" The only thing that the team's overall record means is where they will be seeded in the playoffs and whether or not they will have
home court advantage
; it has nothing to do with their chances of reaching or winning the Finals . . . In my opinion,
NONE OF THESE EXCUSES APPLY TO THE 2010-2011 MIAMI HEAT!!!!!
After blowing a 24 point second half lead at home to the
Orlando Magic
last night, and squandering leads of 15 and 11 to the
New York Knicks
and
Chicago Bulls
respectivley in the past week and a half, it is clear to me that this team does not have what it takes to make a significant playoff run this year.
This was supposed to be the newest, biggest, and best "BIG 3" of any collection of three players to attain that moniker in the entire history of the NBA!
LeBron James
coming off an MVP season,
Dwyane Wade
coming off an MVP calibur season, and
Chris Bosh
, a 20-10 guy that can drop 40 on any given night, joining forces to form the most powerful group of heroism since the
Justice League
. The
"Heatles"
were supposed to sweep across the universe to the tune of 72+ wins, according to
ESPN analyst Jeff Van Gundy
, eclipsing the
1995-96 Chicago Bulls
for the single season wins record. They won't sniff 70 wins this year and frankly, there's been some hard day's nights for the Heat lately, especially when it comes to playing good teams and closing out games. Allow me to throw out everything that happened before
Christmas Day 2010
, since those guys with big egos were still in the 'feeling out' process with each other's games. On that Christmas, the Heat blewout the defending champion Lakers in L.A. 96-80, and had everyone thinking that they had turned the corner. Since that win, Miami has two wins over a top 10 NBA team (at
Oklahoma City Thunder
Jan. 30 and at Orlando Feb. 3). On the other hand, they have lost to the
Denver Nuggets
(when they still had
Carmelo Anthony
), the Bulls (twice), Boston, and then this recent slide when they have had double-digit leads and still were not able to close out. The toughest question to answer is "what is going wrong with them?" since it seems that there are
multiple responses
to that singular question. You wouldn't think a team with that much star power would have so many holes. Let me atleast scratch the surface.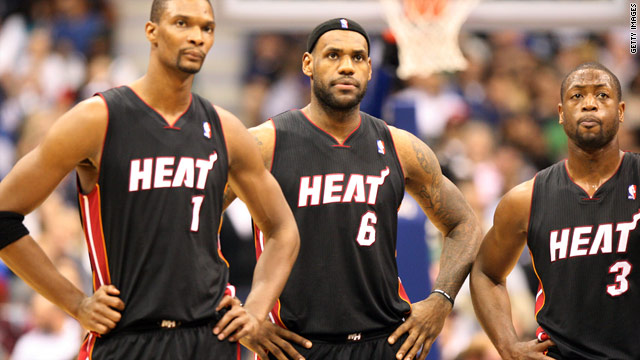 Still looking for answers.
1. They don't run anything on offense.
The next time you watch the
Boston Celtics
, see how they set up their offense when they are in the half court.
Rajon Rondo
gets the ball at the point and will throw up some type of hand signal to key the beginning of a play. Players will set screens for
Ray Allen
to run through, big men make back picks, the ball moves from one side of the floor to the other, and no one cares who shoots the ball; as long as they get a layup or a good open look. This
doesn't happen
with Miami. They are at their best in transition; converting on the break when other teams miss a basket or turn the ball over by using their
athleticism
to get down the floor. They get ball movement sometimes off
isolation
but that mainly happens when James and Wade are hitting (see last night's game, first half). When 'Bron and D-Wade are off, the offense is
stagnant,
and that lag leaks into the team's defensive intensity as well (see last night's game, second half).
2. The team's best defender, rebounder, and shot blocker, is LeBron.
James is a physical beast that prides himself in doing it all and excelling at it all but his
bread and butter
is on the offensive end. He can
lockdown on D
, and chip in rebounding the ball, but he cannot be the biggest presence in the paint on defense. If LeBron has to be in the low block so often to
help stop penetration
, it takes away from his capability to leak out and start transition offense.
3. No one outside of the 'Big 3' is reliable.
No role player is stepping up in big games.
If Wade, Bosh, and James each score 25 points, my math tells me that's only 75 points. Those are good games individually, but clearly not enough collectively to win against elite teams without some help from someone else. James Jones and Mike Miller get plenty of open looks when the big guys are rolling, but they don't create shots for themselves or teammates and they are defensive liabilities. Erick Dampier, Joel Anthony, and Zydrunaus Ilgauskas are average rebounders and defenders at best and are totally inept offensively, so forget about creating offense by feeding the post like the Celtics, Magic, Lakers, Bulls, and San Antonio Spurs can do.
4. Who takes the last shot?
When you look at it honestly, newly acquired veteran guard
Mike Bibby
is the clutchest player on this roster. Every once in a while, one of LeBron's
fadeaway 35-footers
to tie or win a game actually goes in, but the next leap year isn't until 2012, so I guess we will have to wait until then to see that again. Wade is a proven finisher, but when James is on the court, I think he is almost expecting
to not get the ball
, and it steals his swagger a little bit. Bosh would be an option if he
actually played in the post
, but he's just a jump shooter and you would rather have James or Wade doing that.
5. The wrong guy is coaching this team.
History shows that a team with this many egos requires a coach with an above average to equal ego of the top players or they will pretty much coach themselves.
Erik Spoelstra
is just another guy.
Pat Riley
has stated that he doesn't want to coach anymore but he might be exactly what this team needs. The last time he took over the Heat, when they had just acquired
Shaquille O'Neal
from the Lakers, Miami went on to win the championship. Don't know why Riley is holding out but I think that he could probably coach this team in his sleep. No way are they
blowing fourth quarter leads
and taking wild shots with someone heading that team to steer them right when things are going wrong.
Listen, I'm not trying to bash the Heat, because I think eventually they will
work out the kinks
. I just think that the time to figure out all these
problems
have run out for this year. Maybe they can miraculously turn things around these last games and in the playoffs but I doubt it. They have the Spurs tonight in San Antonio, before the Bulls, Lakers, and the Spurs again next week at home. We'll see really soon whether or not they can prove me wrong.