Texas is 10-0 in the Big 12, including a win over #1 Kansas.
Kansas
(24-1, 9-1 Big 12) enters the week as the nation's number one team after previously unbeaten
Ohio State
(24-1, 11-1 Big Ten) fell to
Wisconsin
at the
Kohl Center
in
Madison
last Saturday, even though
Texas
knocked off the Jayhawks 74-63 in
Lawrence
on Jan. 22. Still, the
Longhorns
(22-3, 10-0 Big 12) were edged by only one vote by Kansas in this week's balloting and it would not be surprising for Texas to overtake that
#1 ranking
even if both teams win out during the regular season. The reason why: You
don't mess with Texas'
schedule. Coach
Rick Barnes
put his team in a position where they would battle tested come this time of year by playing a rather
brutal non-conference schedule
, despite having a young team. The Longhorns have recorded wins over
Illinois
,
North Carolina
, and
Michigan State
, while losing to
Big East
powers
Pittsburgh
and
Connecticut
by a combined three points (their third loss was on the road to
Southern California
Dec. 5, a
clear aberration
at this point). All five of those teams are ranked
top 50 in RPI
. The strategy has paid off as Texas is 10-0 in conference play with wins over #16
Texas A&M
(twice),
Baylor
, #13
Missouri
, and that "W" against the then second-ranked Jayhawks on the road. As a result, many experts believe Texas is the team to beat right now. (including
a friend of mine
who told me on
Facebook
about a month ago that he could easily see Texas in the
Final Four
. I see where he's coming from now, especially since he predicted the
Melo Syracuse team
to win the
NCAA championship
in 2003, when the
Orange
weren't even ranked!)
Bob Knight
called sophomore guard/ forward
Jordan Hamilton
the
best offensive player in the country
and for good reason. Hamilton, a very athletic and aggresive slasher out of
Dominguez H.S.
in
Compton
, is averaging 18.9 points per contest and can score on the drive and is shooting well from distance (41%). At 6'7" 220, he definitely has a little
Carmelo Anthony
in his game. Inside is true freshmen
Tristan Thompson
averaging 12.8 points and 7.5 rebounds. He is 6'8" but plays alot taller than that because of his long arms. I can see a little
Hakim Warrick
in him. Sophomore guard
J'Covan Brown
, former
McDonald's All-American
and Florida-transfer
Jai Lucas
, along with Turkish product
Dogus Balbay
, fill out the other guard spots. Maybe combined they can bring to the table what
Gerry McNamara
did. But there are teams
on the rise
that will have something to say come tournament time, and teams that better find a way to get their act together quick, or they won't make it out of
the first weekend
.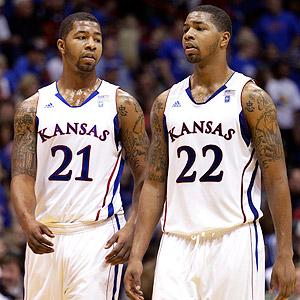 Pick your poison between Marcus, right, or Markieff.
On the Rise
The Morris Twins and Kansas
- Despite the
humbling setback
to Texas, the Jayhawks have
imposed their will
on almost every other team they have played this season. They
lead the nation
in field goal percentage (52.3),
Marcus Morris
is averaging nearly 17 ppg on 61 percent shooting while
Markieff Morris
averages 13 per on 59 percent shooting.
Brad Wanamaker and Pittsburgh
- With leading scorer
Ashton Gibbs
out with a MCL injury, the senior from
Philly
dropped a big 21 points at the
Pavillion
against
Villanova
Saturday to lead the
No. 4 Panthers
(23-2, 11-1 Big East) to a 57-54 win last Saturday.
Harrison Barnes and North Carolina
- Maybe its just me but Barnes looks like he is finally benefitting from the
college weight room
. Barnes appears to be more defined in his body, and his game is also responding, as he has scored in
double figures
in eight of 10 conference games. In case you needed visual evidence . . .
On the Fall
Kemba Walker and UConn
- I had Walker as P.O.Y., as many others did earlier, and he's still averaging 22.8 ppg, good for seventh in the country, but the game against
Syracuse
in
Hartford
killed it for me. Kemba had 8 points and the
Huskies
just looked plain awful against the
2-3 zone
. I know not everyone can defend like the 'Cuse but why wouldn't other teams just zone up
UConn
and make someone other than Walker beat you?
The Illini are fading away.
Chris Singleton and Florida State
- The big win over
Duke
Jan. 12 in
Tallahasee
may not mean anything now that Singleton will undergo surgery to repair a broken right ankle. Singleton led the
Seminoles
in scoring (13.8), rebounding (7.1), steals (2.1), and 3-point percentage (37.5).
Demetri McCamey and Illinois
-
Bruce Weber
has had a long drought since reaching the
NCAA Tournament Final
in 2005 (with mostly
Bill Self's players
) but had the talent and experience this year to atleast make a push in the
Big Ten
. McCamey averaged 16.2 points, 7.2 assists, and shot 52.5 percent from three in the first 19 games of the season. In the last six games McCamey is averaging 7 points, has
25 assists to 21 turnovers
, and is shooting 32.5 percent from distance. The Illini (16-9, 6-6 Big Ten) are 2-4 in those games.
Still Dangerous:
G - Nolan Smith - Duke
G - Jimmer Fredette - Brigham Young
F - Terrence Jones - Kentucky
G/F - Jordan Hamilton - Texas
Knowles hit 7 3's on the 'Cuse Feb. 12
F/C - Jared Sullinger - Ohio State

Players to Watch
G - Ben Hansbrough - Notre Dame
G - Preston Knowles - Louisville
F - John-Paul Olukemi - Oklahoma State
G - Jordan Taylor - Wisconsin
G - LaceDarius Dunn - Baylor
G - Erving Walker - Florida
F - Mouphtaou Yarou - Villanova
G - Dwight Hardy - St. John's
F - Derrick Williams - Arizona
G - William Buford - Ohio State