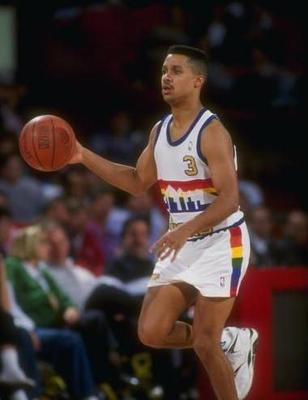 Why in Allah's name was M.A.R. in a dunk contest?
8 - Mahmoud Abdul-Rauf - 1993
- Chris Jackson had hops, but he was known as a shooter. I think even he was surprised he got invited. And he couldn't have been too encouraged of his chances seeing he had to follow
two-time champion Harold Miner
.
7 - Darrell Armstrong - 1996
- I liked Armstrong's toughness as a player, and he dunked hard when he got some momentum going, but if your repertoire consists of three, maybe four dunks, you do not belong in the NBA dunk contest.
6 - Tony Dumas - 1995
-You know things didn't go well when you have to pretend you hurt your knee . . .
5 - Antonio Harvey - 1995
- Classic case of biting off more than you can chew . . .
starts off good @ 1:24
. . . but ends miserably @ 1:46 . . . Shaq's face says it all.
4 - Joshua Treadway - 1985
- Here's all you need to know about Treadway's chances of winning the contest in '85; a list of the other participants: Dominique Wilkins, Michael Jordan, Julius Erving, Larry Nance, Darrell Griffith, and Clyde Drexler.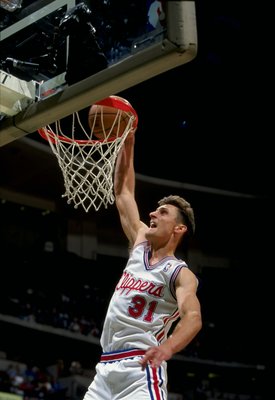 If you squint, Barry looks a little like Blake Griffin.

3 - Brent Barry - 1996
- Reverse affirmative action winner here. Barry completed the most bland free-throw line dunk in basketball history and won the award because all the other contestants were either lame dunkers (see, Darrell Armstrong, Doug Christie) or did hard dunks but with no creativity (Michael Finley).
2 - Nate Robinson - 2006
- I know he's the only player to win the dunk contest three times, and he's a fine little man baller and off-the-bench point guard, but as far as I'm concerned, 2006 was the beginning of the end of the contest for me. Philadelphia 76ers guard Andre Iguoudala should have won the contest, as he hammered through a variety of impressive dunks with deft ease and fluidity. Meanwhile, it took Robinson 14 tries to complete his final dunk, which took about nine minutes of realtime. It was probably the most painful nine minutes of my basketball watching life.
1 - Jeremy Evans - 2012
- In the year of surprises, so far this has been the least exciting one. He wasn't even supposed to be in the contest; he replaced New York Knicks guard Iman Shumpert, who has been nursing an injury. And let's face it, replacing Evans for Shumpert in a dunk contest is like trading in a '99 Ford Taurus for a 2001 Hyundai Elantra . . . Granted, he did have one dunk that was impressive, his first dunk, where he decided to wear a camera on his headband so people can 'see what he sees' when he's dunking was a FAIL of epic proportions. On the actual dunk, I'm not sure if he got more than a foot off the ground. And then he hung on the rim and spun around so as to add to the camera effect. Lame. They should not have allowed him to continue to participate after that.