Catch Harvin if you can...watch your ankles though.
Percy Harvin, Minnesota Vikings.
Looking for the
most explosive player
in the NFL? Look no further than one William Percival Harvin, III, Vikings' receiver/runner/return specialist extraordinaire. Harvin diced the
Tennessee Titans
this past Sunday for eight catches and 108 yards with a touchdown, a rushing TD, and a few linebackers and DBs with broken ankles. Harvin
leads the league in YAC
with a 8.4 average and he's averaging 38.3 yards per kick return, including a 105-yarder for a score last week against the
Detroit Lions
.
Stevan Ridley, New England Patriots.
It wasn't a perfect night for Ridley but it was major looking ahead for his career. The Patriots are a passing team with a stable of running backs, but Ridley is emerging as the starting back of the future for
New England
. He had a
career-high
151 yards on 28 carries and a touchdown against the
Denver Broncos
after 22 carries and 106 yards rushing against the
Buffalo Bills
the previous week. Ridley has to do a better job of holding on to the football though. He has
fumbled
four times in his last 118 touches, a rate that will not sit well with
Bill Belichick
no matter how well he's playing.
Ryan Tannenhill, Miami Dolphins.
Tannenhill dons No. 17 and is also the 17th different starting quarterback for the Dolphins since
Dan Marino
retired in 1999. Through the Jay Fiedler's, A.J. Feeley's, and Matt Moore's, the thing that makes Tannenhill stand out the most is his size and confident Marino-like swagger. He is athletic enough to scramble but chooses to stand in the pocket and make passes while taking big hits. This will endear him to his teammates in the long run. The No. 8 pick in the
2012 NFL Draft
is not getting the hype that
RGIII
and
Andrew Luck
are getting, but it won't be long before Tannenhill really starts coming into his own. Case in point, the Week 5 win against the
Cincinnati Bengals
put Tannenhill into an elite category. He is now the only rookie in
NFL history
to pass for more than 1,200 yards in his first five games with at least two wins. Add on the Week 4 performance against the
Arizona Cardinals
when he threw for a Dolphins
single-game rookie record
431 yards and it's clear to see that Tannenhill is on his way. BIG UP.
BIGGEST UP
Drew Brees, New Orleans Saints.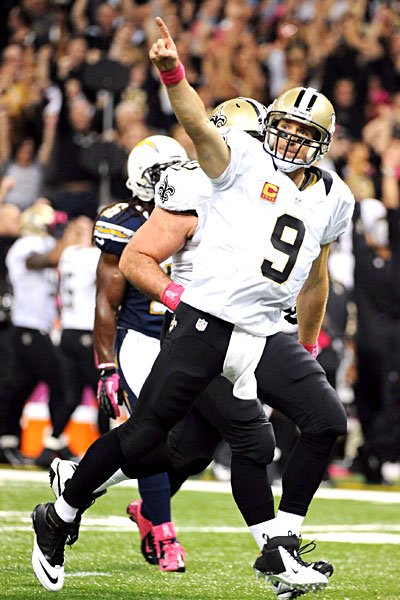 Records keep piling up for Brees.
As a Dolphins fan it's hard to give Brees the BIG UP because I still remember the 2001 draft, when Miami desperately needed a franchise QB after Marino retired, and Brees was still available for the Dolphins to pick and they passed over him to take CB
Jamar Fletcher
when they already had two Pro Bowl corners in
Sam Madison
and
Patrick Surtain
on the roster. But I digress. Brees has basically gone from a fringe elite NFL quarterback to a lock for the Hall of Fame in just the past four years. Super Bowl winner, 5,000 yard passer, and now consecutive games (48) with a passing TD record passing the great Johnny Unitas (although it's noteworthy that Tom Brady will likely
eclipse the Unitas mark in Week 17
if he throws a TD in every game this season).