MCW's quickness and length make him a matchup nightmare at the 1.
The Big East has always been known for point guards that play with toughness, leadership, and a fearless flare in dramatic situations. Syracuse coach Jim Boeheim has coached against those types of players for over 30 years in the conference and has also had a few on his squad as well (see Pearl Washington, Sherman Douglas, Johnny Flynn). That said, it's probably not surprising for Boeheim to see what sophomore Michael Carter-Williams is doing for the No. 3 Orange (18-2, 6-1 Big East ) as the starting point man this season. But when you add in that Carter-Williams played so sparingly in is his first season at the 'Cuse (10.3 minutes per game compared to 33.6 this year), and the prospects of his size and ability at the point guard position at the next level (no disrespect to
Reece Gaines
of course), Boeheim and the rest of the Big East may be watching the most unique floor general to ever play in the conference.
Carter-Williams (12.3 ppg, 4.8 rpg) is currently tops in the nation in assists per game at 9.2 and fourth in steals per game at 3.1 (leads Big East). His most memorable steals came Jan. 19 at Louisville when Syracuse was tied with the then-No. 1 Cardinals with less than 30 seconds left. He finished off the theft with a breakaway jam that gave the Orange the lead, then sealed the game with another steal on L'ville's final possession.
Carter-Williams development has allowed Boeheim to play senior guard Brandon Triche off the ball more often, which has led to an increase in his scoring (leads team with 14.5 ppg, averaged 9.4 ppg last year). Add in athletic forwards C.J. Fair and Rakeem Christmas, and the long range consistency of senior forward James Southerland (career high 13.6 ppg, 2.1 3pts made per game), and Boeheim has yet another squad that looks loaded and ready to take on any challengers in not only the Big East but the entire country.
ADEDS Player Watch: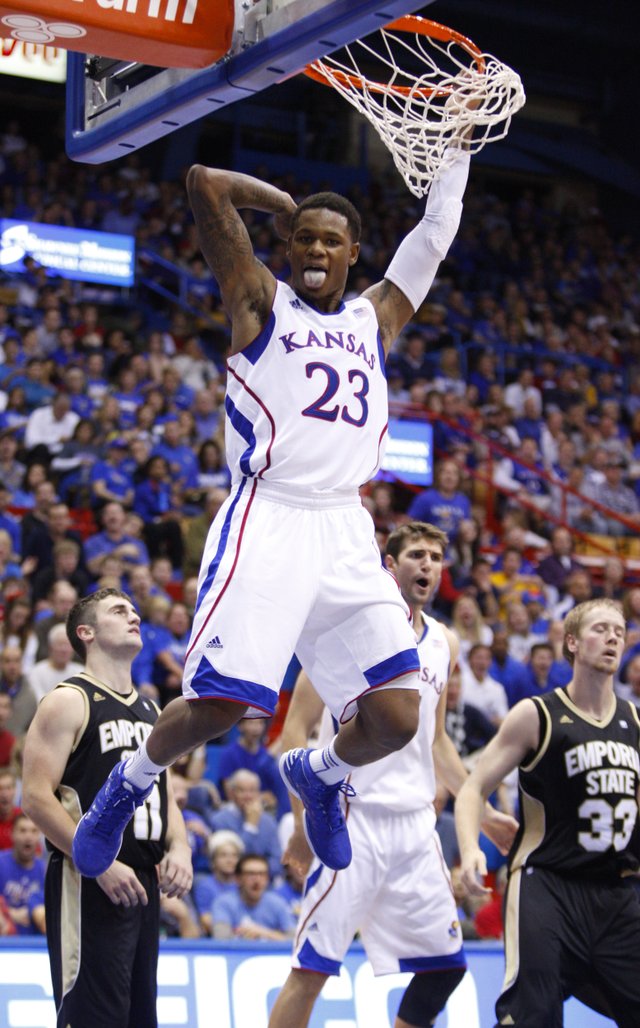 McLemore is a possible No. 1 NBA Draft Lottery pick.
F - Shabbazz Muhammad, Fr., UCLA
G - Trey Burke, So., Michigan
G - Ben McLemore, Fr., Kansas
G - Rasheed Sulaimon, Fr., Duke
C - Jeff Withey, Sr., Kansas
F - James McAdoo, So. UNC
G - Archie Goodwin, Fr., Kentucky
G - Mark Lyons, Sr., Arizona
C - Cody Zeller, So., Indiana
F - DeShaun Thomas, Jr., Ohio State
G - Sean Kilpatrick, Jr., Cincinnati
G - Phil Pressey, Jr., Missouri
F - Otto Porter, So., Georgetown
G - Dez Wells, So., Maryland
F - Lorenzo Brown, Jr., N.C. State
G - Shabbazz Napier, Jr., UConn
F - Jakarr Sampson, Fr., St. John's
F - Kenny Kadji, Sr., Miami (FL)