Carmelo suspended one game for waiting for Kevin Garnett at the Celtics team bus? Yeah, there's no way I'm disagreeing with the NBA on this one, there's just no real way of legitimizing it. It's not that Melo deserved the suspension because there was a 'confrontation', because as far as the reports show, no hands were thrown. The reason the suspension is valid is because, if you let a player get into your head to the point you wanna fight him after the game, maybe you need to take a break from playing for a while.
Thing about KG, he's a guaranteed first ballot NBA HOFer. And also, he will go down in history as one of the greatest trash talkers in the history of sports. Taunting Charlie Villanueva by calling him 'cancer patient' is not below his standards. Physically, his game is just as grimey as his speech. From punching Chandler Frye in the balls to the discrete forearm shiver to Tyler Hansborough's orbital bone last week, there's more than enough evidence to reveal Garnett's obvious propensity for on-court psychotic fits of rage. Carmelo was trying to show that he's not a bitch, and all that KG tough shit looks and sounds good on the court, but don't mean shit in the real world. I get where you're coming from Melo. But on the NBA premises, you will always lose. In this case, Carmelo let KG beat him twice. KG succesfully took you out of your game (not to mention some surprising lockdown D by Jeff Green) and you shot 6-for-26 while phasing out your teammates and it was ultimatlely the reason the Knicks lost the game. And now your team has to play without you in the next one.
Ya wife told me you have a little dick nigga!
There are few things in the NBA I enjoy more than when Kobe Bryant goes into full-on Kobe Mode. This is the point in the game where Kobe feels like his teammates' intensity is lacking, and it's up to him to be the hero and pull out the win for the Lakers. As a result, basketball fans get to witness the entire Kobe Bryant offensive repertoire. You don't know how he's gonna score next: circus layup, miraculous fadeaway, 5-feet behind the line 3-pointer. But we all know one thing is for certain; he's not passing it no one, no matter what.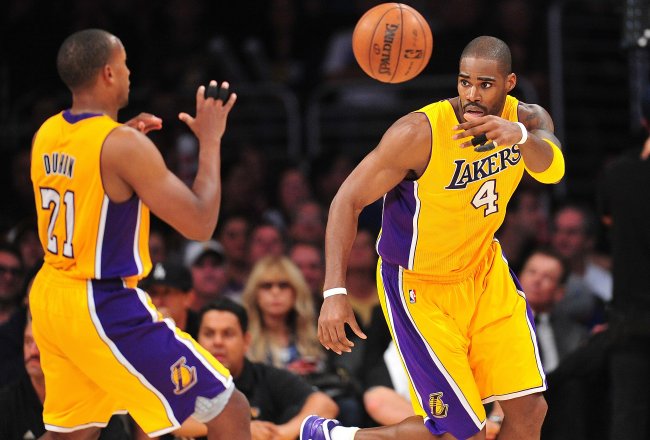 Here; give this to Kobe. I'mma go box out.
It's being reported that former college basketball National Player of the Year and No. 1 overall pick Greg Oden is rehabing his re-surgically repaired knee and plans to make a return to the NBA. The team being reportedly interested in him is the Miami Heat. If this were to go down, there isn't a better possible thing for Oden to come out of destroying every possible ligament in your knee after being drafted by the Portland Trail Blazers and before playing 100 games in about a 5-year span. Oden will get to rehab in Miami, which in itself needs no more further explanation. And he'll get to come off the bench/sit on the bench and have a high-percentage chance of winning a championship ala Juwan Howard. At the very least/best, Oden could provide the same amount of impact as Joel Anthony or Dexter Pittman. Meanwhile, Kevin Durant has all the pressure on him to lead OKC to a championship, and he was the No. 2 overall pick that year. Now that's what I call coming out on top.
Oden in early rehab for is imminent return to the NBA.